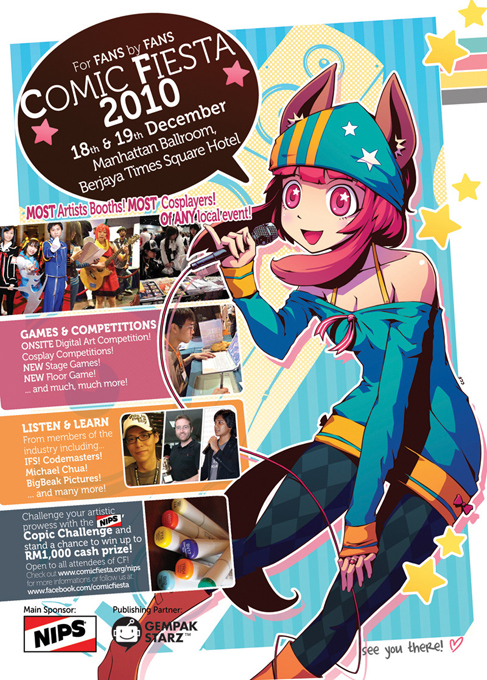 Just a few more days away till Comic Fiesta 2010, and here i bring you (yet another slowpoke update, lol) one final update (i hope! lol) for Comic Fiesta 2010. And just in case: it's at Berjaya Times Square Hotel's Manhattan Ballroom this time instead of Sunway convention center from previous year(s). Anyways on with the updates shall we?
First off lets here is the master activity list for Comic Fiesta 2010: http://forums.comicfiesta.org/viewtopic.php?f=2&t=6566
For the portfolio session that you guys will be familiar since Comic Fiesta 2008, we have Phil Ortiz & Phil Yeh coming all the way from the US of A! While i don't have much info at all for both guys (lol), I've been informed that Phil Ortiz has won 5 Emmy and he is one of the guys who helped in the animation of The Simpson's.
We also have KKNM coming from Singapore as well as Little Akiba, and for the first time ever, The Figure Mall (TFM) will be organizing a Figurine Marketplace! If you're looking for rare, out-of-production figurines, you might just find someone selling them at the TFM booth. I will also be contributing some of my collection for the display just like previous Comic Fiesta; Although not as much as previous years since our lagging sprout haven't even pass me a confirmation list for figures to be displayed  as i am writing this post LOL!
Lastly:


CHILL MOBILE COMIC MAKES A BUZZ IN THE MALAYSIAN COMIC COMMUNITY

Kuala Lumpur, 10 November 2010 – "CHILL is not just a comic, it is a new medium that will change the experience of comic book reading. From one of a kind illustrations designed by Malaysia's finest, we will be featuring renowned cartoonist and illustrator, Aie G for the very first issue," says Low Huoi Seong, CEO of Vision Interactive Broadband Services Sdn. Bhd. (VIBS) and Redberry Digital.
With the launch of CHILL, comic aficionados will be introduced to a more convenient way to stock up on the latest stories without running to the bookstore. CHILL is just a download away!
Readers will be able to step into the world of CHILL, a weekly magazine and experience full color comic strips, comic stories, and quizzes all on their mobile phones. Additionally, the mobile comic has features to browse the CHILL store and download mobile wallpapers. Readers can now carry all CHILL issues in their pocket and enjoy comic reading whenever and wherever.
On 19 November 2010, readers can download and experience the 1 CHILL issue for free* at www.lepakchill.com. Plus, cartoonist Aie G will be making a special appearance with the CHILL Crew at the 2010 Comic Fiesta to be held in Berjaya Times Square from 18-19 December 2010. There will be an illustration contest to scout for fresh comic talents and the best will have their work published in CHILL! The team will also be giving away exclusive CHILL merchandise and exciting prizes during the 2-day event. More details on the contest rules and guidelines will be released closer to the date. Comic fans can also follow CHILL on Facebook, DeviantArt and Twitter for the latest news in the comic scene.
The official launch of CHILL will be on 3 December 2010. Chill Mobile Comic is only available for JAVA enabled mobile phones at the start but VIBS has future plans of putting CHILL onto iPads, iPhones and Android models. So get ready to chill! –CHILL powered by VIBS.
Media Contact:
May Hon
Public Relations and Sales Director
That's it for now. Hope to see you guys there! And to those that are expecting delivery/goodies from me, do kindly remind me again before CF2010 in case i forgot 😛