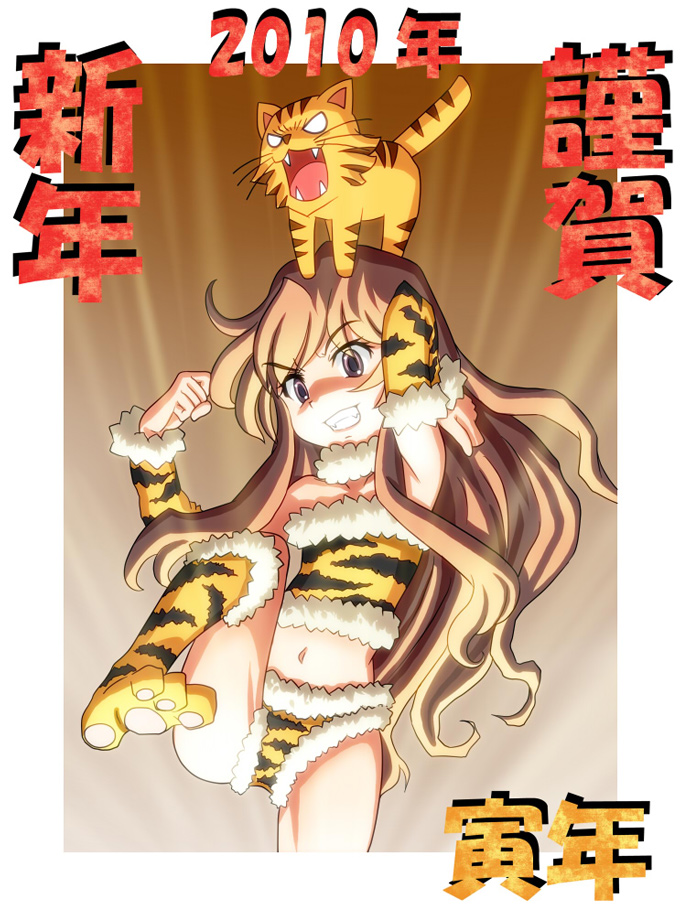 Image source: pixiv member chunpai
It's almost as if 2009 new year was just yesterday with the coming of 2010 new year, time does fly and we are now entering a new year of the taiga Tiger 2010! So yeah, Happy new year 2010 to everyone out there from DMM! May you have a lootful (otakus lol) and prosperous year~
Looking back at the previous 2009 new year post,  i don't think i will be writing up as much as before as this year, would be a ronery 1/1/2010. Instead of having gathering like the previous year, I'm basically alone (well, i guess 1 of my imouto aka little sis is at home as well lol) at home, "celebrating" this virtually on TFM chat, ronery much indeed. But yeah, what happened on 2009, lets see, DMM just had its 1 year anniversary, we had Daicon 2009, GACC 2009, Anime Festival Asia 2009, Comic Fiesta 2009, all which i just got too darn lazy to fully cover/cover them at all rofl, but believe me, those were really AWESOME events, and a majority of them were in Malaysia too!
Oh lets not forget, this year is MY year too 😀 Yes, according to the Chinese Zodiac horoscope, i am born in the year of the Tiger, looking at some forecast, i will definitely be looking forward for 2010:
The Tiger

Magnetic, passionate and grand! When the Tiger does anything, it's noticed! Indecisiveness and stubbornness can mar the sparkle of the Tiger personality. On the one hand generous, on the other hand a little mean, it's sometimes hard to know where one stands with the Tiger. Flexible, honest and truly entertaining, one has a friend for life with a Tiger.

Forecast for 2010

Being the Tiger's own year, 2010 holds great promise for those born under this sign, with exciting developments happening for them both personally and professionally. Some Tigers may be feeling disappointed and disheartened after 2009 and it will be important to leave the past behind and concentrate on the future, which is looking so bright! Financially, everything improves this year for those born under this sign and money-making thoughts and ideas should be fully explored and investigated. With the fast pace of this year for all signs, the Tiger needs to take extra care in planning and thinking all projects through – no rushing headlong into schemes during 2010! Tigers looking for romance will possibly see a friendship suddenly develop into something more personal with exciting consequences. August, December and January will see a very active and entertaining social calendar, but all of 2010 will see fun activities for the Tiger. The Spring months, March to May, will bring encouraging and interesting job opportunities, but the Tiger will still have to make sure he puts himself forward and gets noticed at work.
source: http://www.wayangtimes.com/2010-year-of-the-tiger-chinese-zodiac-horoscope-forecast.html
Visit the above site for the other 11 Zodiac forecasts. For more info on the Chinese 12 Zodiac Horoscopes, click here.
As for myself, things definitely ended smoothly on 31/12/2009, i managed to sold off the processor i got from cyberfusion, and my old Asus Commando motherboard that was replaced by my new Maximus Formula, basically some cash backs to pick myself up from my negative finance…oh and a short chat log from TFM chat earlier:
Quazacolt: maybank went smooth
Quazacolt: fucking manager went all explaining and shit
Quazacolt: and then finally ask me if i agree to bear the charge and try to play the women advantage bullshit all pitiful and all
Quazacolt: and i showed my not amused face saying "i believe i have made myself clear on my letter, and our previous phone conversation have i not?"
valho: give her the finger
Quazacolt: instantly "ill go prepare for the reversal"
Quazacolt: so i gots back my monies
Quazacolt: 31-Dec-2009 CASH DEPOSIT RM284.55
Quazacolt: and i get to play blazblue
linkinstreet: oh hi
* Quazacolt is so shiawase
Quazacolt: and now i get to eat wanton mee (with curry! and fried wanton!)
Quazacolt: and opening up FMA
Quazacolt: gonna end my 2009 in awsm
Yeap. 2010, here i come. 🙂