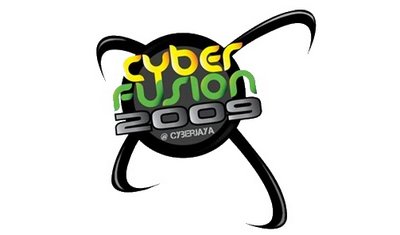 Oh wow, how should i start… Cyberfusion 2009 LAN Party event just happened on 10th April till 12th April at Cyberjaya MMU Malaysia now having its place in the Guinness World Records. After a long 40 hours of gaming non-stop, and lots of energy drinks/caffeine, it is finally over, and Malaysia has officially achieved a new world record of having the world's largest and longest running LAN Party with 274 participants qualified gaming for 40 hours and 58 seconds.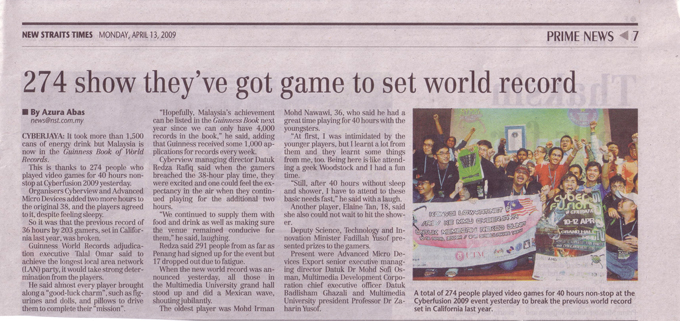 http://www.nst.com.my/Current_News/NST/Monday/National/2530293/Article/index_html
So like initially, some maybe a few weeks/a month ago before the event, i didn't really bother to participate in this. However after a lot of pestering from TFM people, and a sudden confirmation of FREE AMD processors being announced, its ON!!! Things suddenly took for a very "serious-as-cancer" turn to the point I've even bought a new Dell Studio XPS Laptop just for this event. (well i kinda need a laptop in the long term anyways so it isn't really *just* for this event heh) As for the laptop, initially i wanted to post it up earlier and definitely before this post, just didn't really got the time to do so with workload and all.
Anyways, the money draining just doesn't stop there on the laptop, on the way towards Cyberjaya (the location for Cyberfusion 2009) i just so happen to get caught up in a car accident.  That night was raining pretty heavily, and i was driving pretty fast rushing for time thanks to Franstormer. Basically traffic got slowed down, and i was closing in on a car, so i just brake as usual, which shouldn't been a problem, but it just so happen that during the braking period there was a puddle of water and my car just skid forward and gotten a bumped towards the car in front of mine. The damage was pretty bad, with an estimated around MYR 2k for the victim's car and another MYR 1-2k for mine. Thankfully insurance claim wasn't a problem, however i lose out on my NCD (No Claim Discount).
Despite the accident, both me and our bijin (literally means "beautiful person," but analogous to "beautiful woman") fu-chan (Franstormer) still managed to arrive Cyberfusion before 9pm which we proceed to check-in and proceed to our pre-reserved seatings and begin to setup our equipments like my Dell XPS with its cooling pad along with the other accessories like my Razer mouse i  took from my PC 😀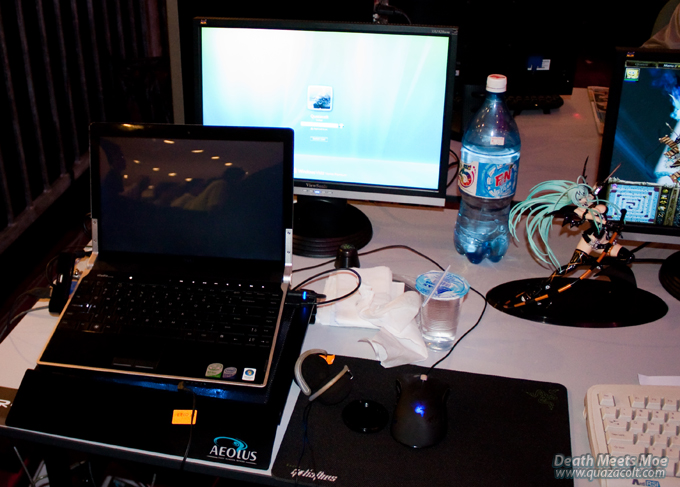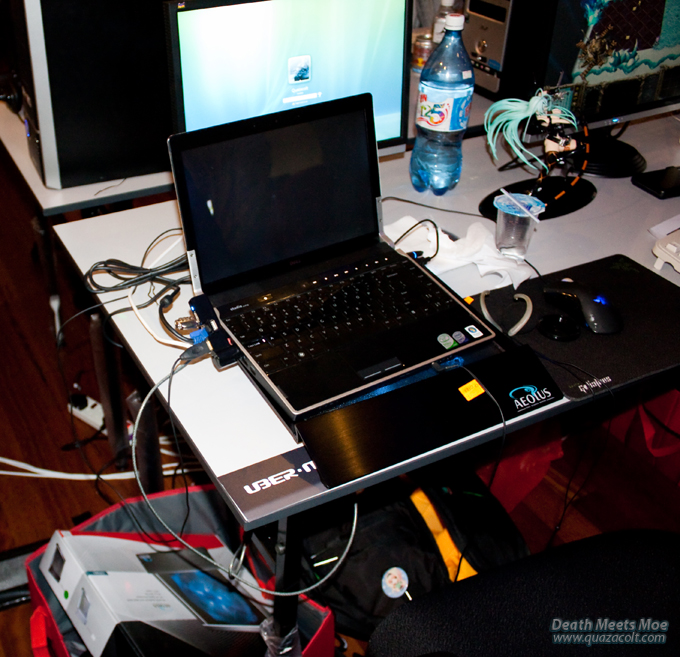 Well, not much to write up now during the event. Pretty much just me gaming for 40hours or so. There are 5 minutes of break time awarded for every passing hour and they are accumulative and are free to be spent according to your preference, so long you remember to register during start of break time and end of break time to make sure you dont overspent your allowed break time. Personally i only spent like no more than 15-25 minutes of break time in total just for bio breaks, as i planned to "end early" by having all my break spent at the end. Pretty much plan failed when it is mentioned that we cant do that as the Guinness adjudicator will be doing headcounts/monitoring that we have to be gaming, aka break time ALL WASTED. 🙁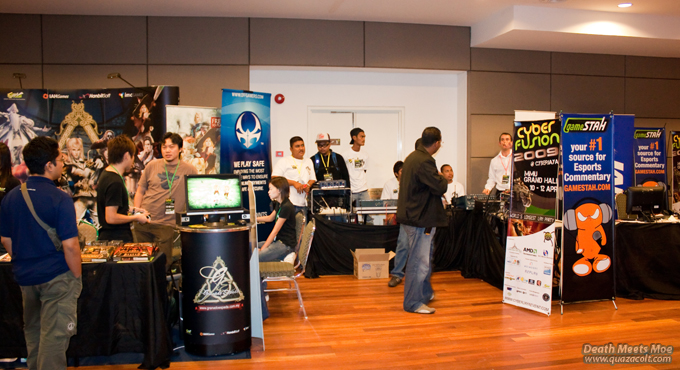 Additionally, i also initially thought there would be KFC/Pizza Hut sponsored thorough the event as i saw the Cyberfusion forum thread showing KFC/Pizza Hut trucks/trailers (whatever they are called) rolling in and setting themselves up. To my surprise you have to pay for it and their price are *SLIGHTLY* marked up. Totally disappointing on that part and guess what, the free food being provided (generally Malay/kampung style mixed rice) was *ABSOLUTELY* horrible. Me being stingy and all (well my finance is in a state of despair, mind you) did not fork out the cash i would've for some proper food like KFC/Pizza hut (although fast food aren't really "proper food" to begin with) and save my stomach the agony i had after the event. Yeap, had some really nasty diarrhea after the event, and another round when i got home. AT LEAST it didn't struck me DURING the event and especially during the headcount, which I'm damn thankful for.
Not much pictures during the event itself as I'm sorta busy gaming and having a Canon 450D DSLR around can be a little distracting. I guess this is where a good PNS Camera like the Panasonic Lumix or Canon Powershot G10 comes in 🙂
Anyways without further delays, enjoy the gallery i have taken after the event, where the closing ceremony, which involved a few high profile people visiting such as the minister of Science Malaysia, the vice president of AMD and so on. The minor lion dance event and the gorgeous AMD chicks were also a nice rejuvenation for our fatigued soul heh heh. A shout out to Solomon Freeman on the wonderful group picture as you can see below, thanks again man! Oh yea, Don't forget to check out the Cyberfusion ending countdown that also comes with a short Caramell Dansen Youtube that Ultimaweaponx recorded, which also included HD feature for a much clearer picture quality.
https://www.quazacolt.com/galleries/cyber-fusion-2009-gallery/
[youtube]http://www.youtube.com/watch?v=cNrZtsqJAo4[/youtube]
(click on the youtube link twice to open a seperate link that allows HQ+HD playback if you prefer so)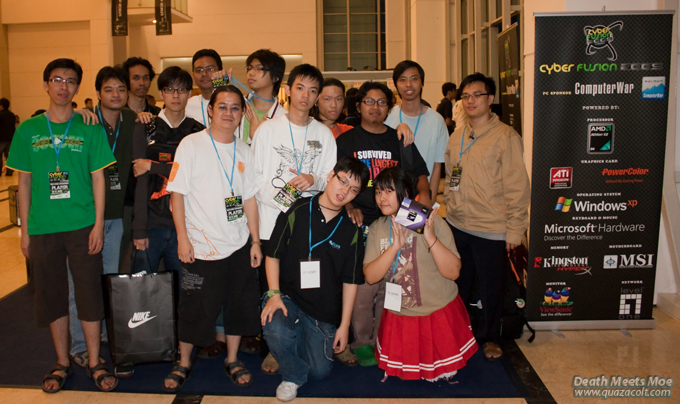 Back row from left to right: Quazacolt, Ultimaweaponx, Elfenrir, Kiddokid, Kuzuryu, Makie
Middle row from left to right: Ahfai, Franstormer, Squallie, KusakabeMisao, Haruji
Front row from left to right: Valho, Yukiijuin, Aiko
p/s: We totally understand your (Solomon Freeman) shying need to keep your face confidential from the Internet 😉
because… WE KNEW 
And of course, who can forget the purpose of anything in life – PHAT LEWTS (actually lulz applies too i suppose :P)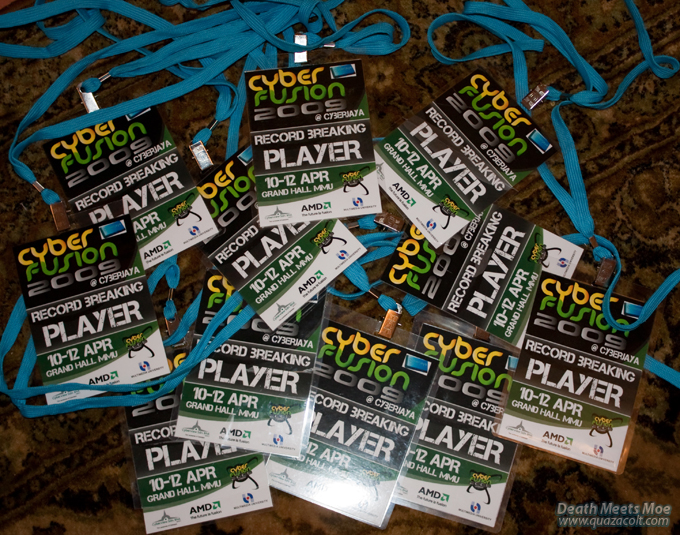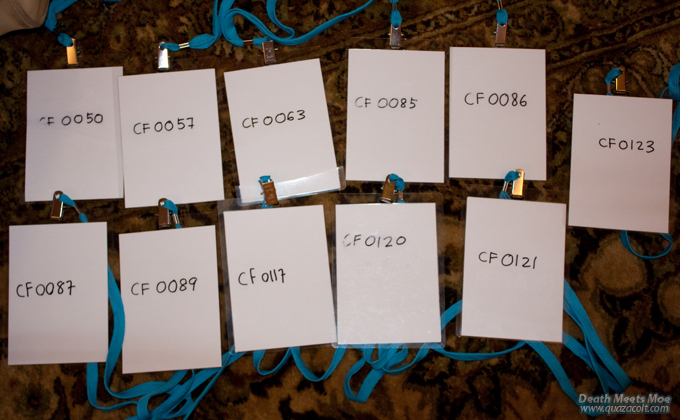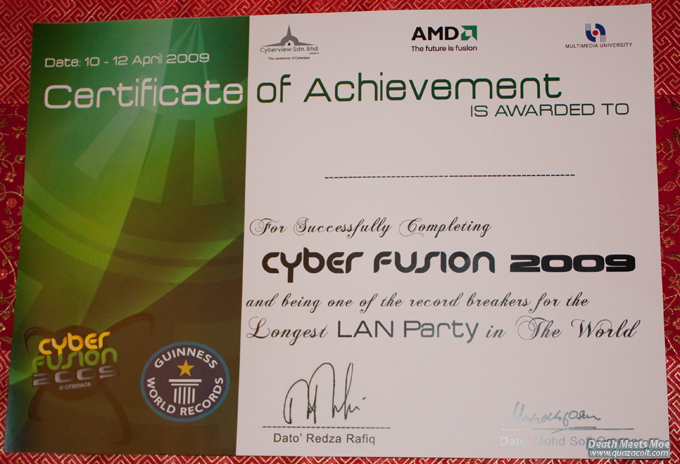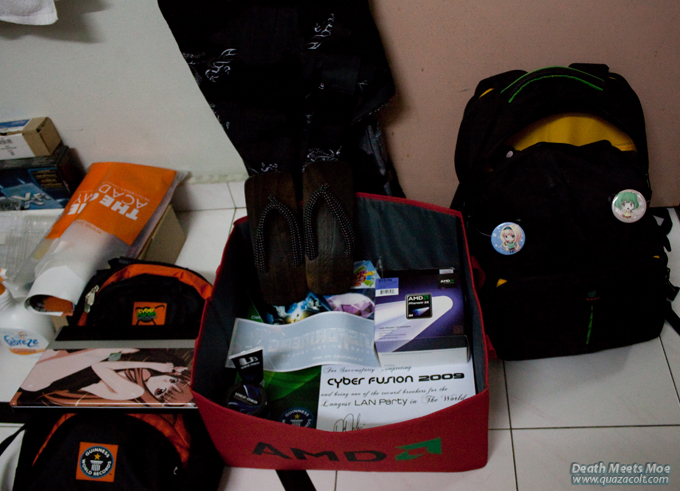 Things I've gotten for/from Cyber Fusion 2009. From the left to right: My brand new Dell Studio XPS 1340 Horo edition with Hachune inside ™ , Cyberfusion 2009 Guinness backpack, Cyberfusion goodie bag containing some ubermen hair styling/facial products, Enermax notebook cooling pad, Cyberfusion 2009 Certificate, Star trek sticker, Transformers car sticker, some MMORPG game CDs/DVDs, AMD 9150e processor, Yukata set with shoes, Kata DR-467 Backpack with Sheryl Nome and Ranka Lee badges hooked onto it.
In closing,  have a look at other posts/news articles links below to get a different perspective on Cyberfusion 2009. And i would also like to give some shout outs to the folks at TFM for their support, especially Moe-Kev for clean sweeping the local cafeteria sponsoring us canned  Nescafe Coffee drinks, Exiled_Gundam and Sichiri for tagging along and staying with us to keep us accompanied. Lets not forget the /AS/ folks helping out in reserving our group seatings. Oh and my WoW guildies for the arena and battlegrounds to help me burn time a lot quicker which made this event quite a breeze. Anyone else that I've missed, apologies in advance ^^;
Other Cyberfusion 2009 writeups:
http://spotgamers.blogspot.com/2009/04/cyberfusion-2009-overview.html
http://www.worldrecordsacademy.org/games/longest_LAN_Party-world_record_set_by_CyberFusion_90191.htm
Cyberfusion 2009 LYN Threads:
http://forum.lowyat.net/topic/996954 Afterstory
http://forum.lowyat.net/index.php?showtopic=966511 Original thread