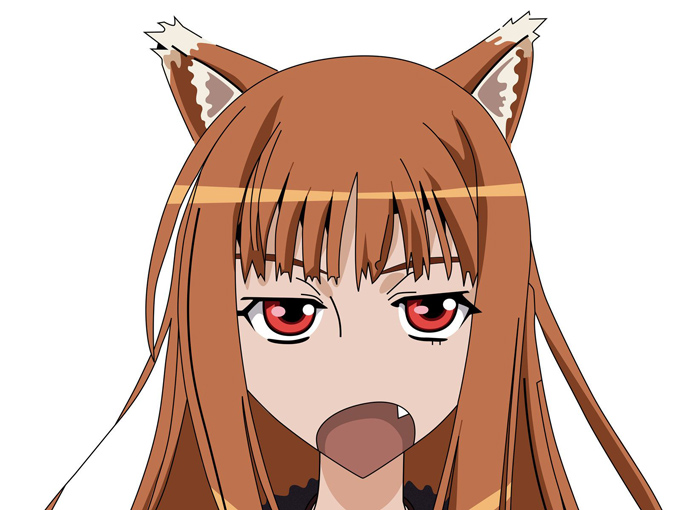 About last 2 weeks ago(07-03-09), folks from The Figure Mall held a gathering at Valho's place, for god knows whatever reasons. (I think it was due to monday being a public holiday, maybe. I knew i spent mondays sleeping instead of slaving working at office) Since my birthday just passed a few days ago(05-03-09), i figured that id throw up some self gratification surprise and secretly planned for my own birthday cake – a Horo Cake.
In the end it turns out that i was outplayed and got thrown a surprise cake by TFM folks as well. Oh wells, no harm in having more cakes right? especially when it doubles my age having twice the amount of candles stuck on both cakes LOL! Honestly, the Horo cake turned out to be better than i expected. Considering the sample photos the cake shop people shown me from previous works. (they were god awfully horrible lol) Obviously it will be off from the original anime/manga art, but heck, for something made out of syrup/cream, and the fact that the baker knows jack about anime, its all good.
As for the gathering pictures, this time we will be having pictures from Makie as well, a TFM member, with his Canon 450D (same camera as mine haha) taking shots of me, since i cant really snap myself 😛 My pictures will be watermarked while his are left without. The order of pictures will also be *slightly* off as its a pain to organize them along with Makie's pictures XD
Without further delays, PICTAR TIEM!!111elevennipponbanzai~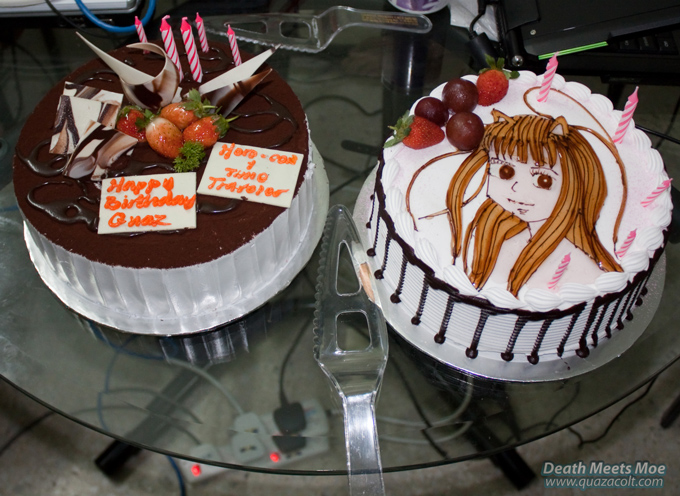 The 2 Cakes for the evening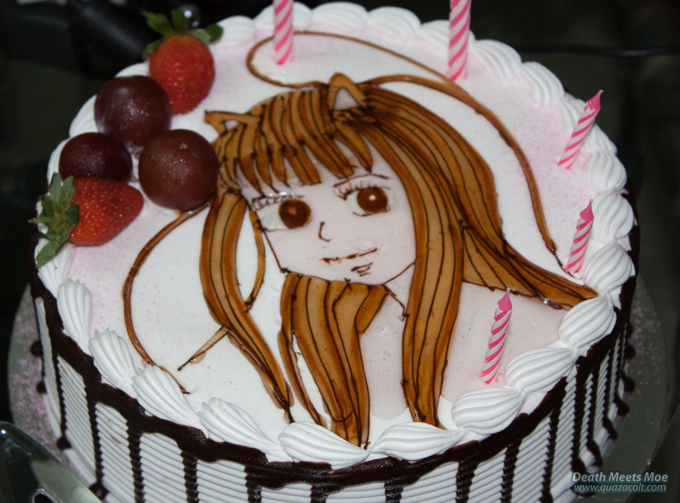 A Close up on horo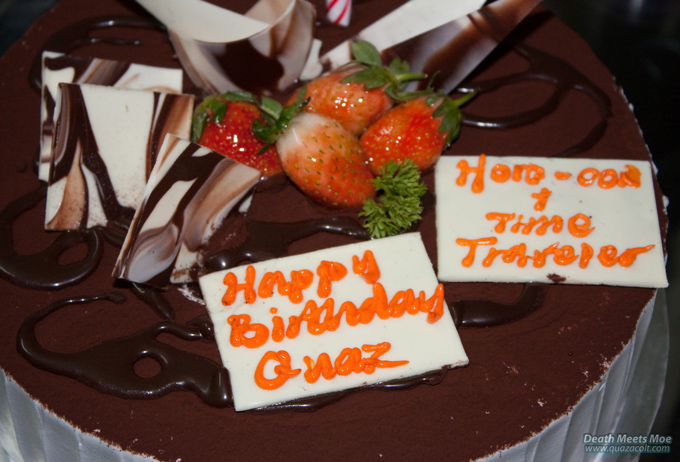 A close  up on the tiramisu cake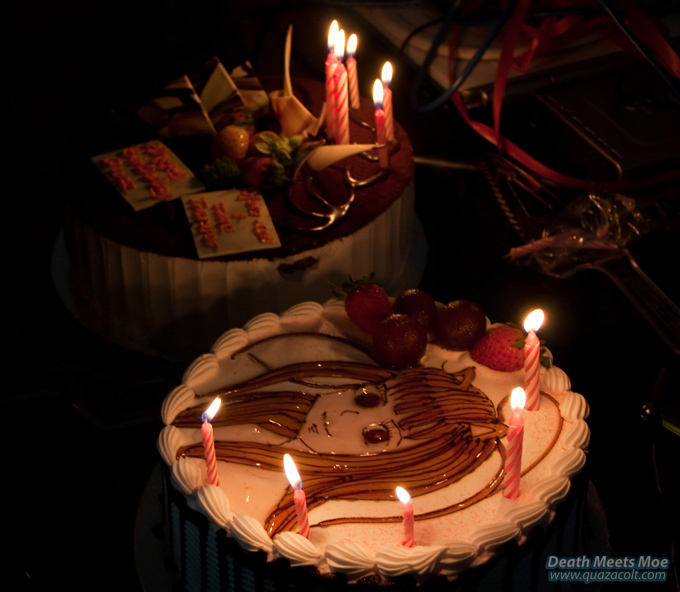 Time to sing that birthday song again~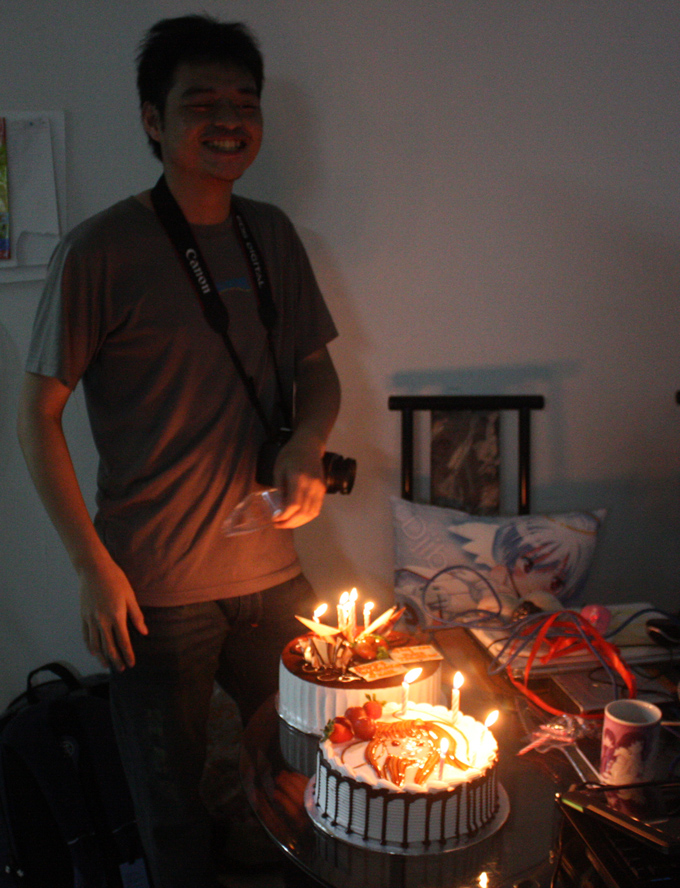 Cake cutting time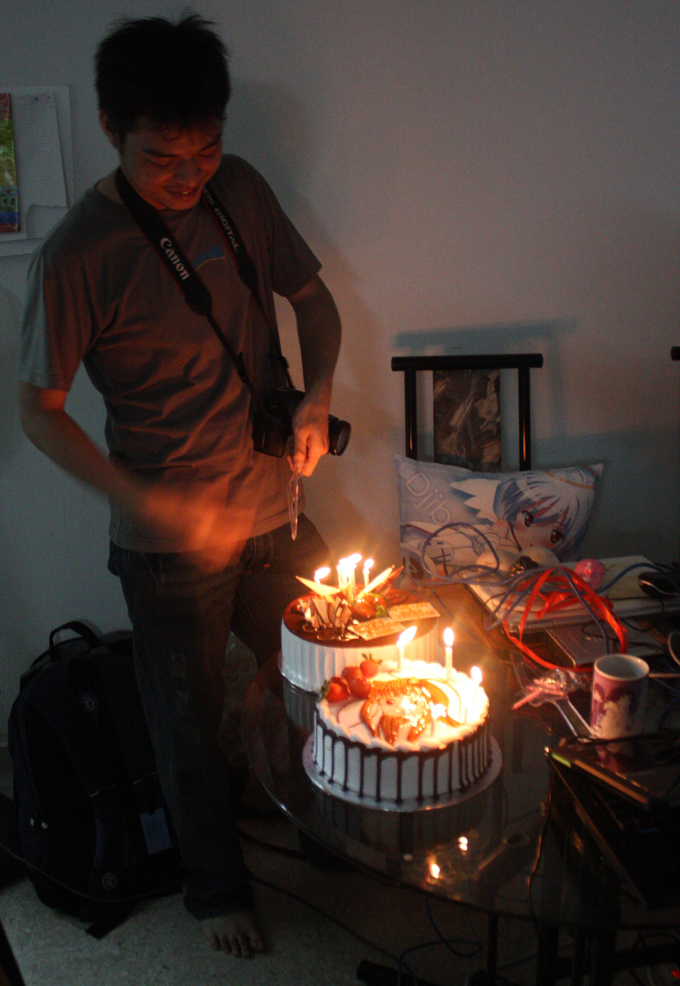 Decided to fap at the speed of light before the cut, but canon 450D was too fast even for me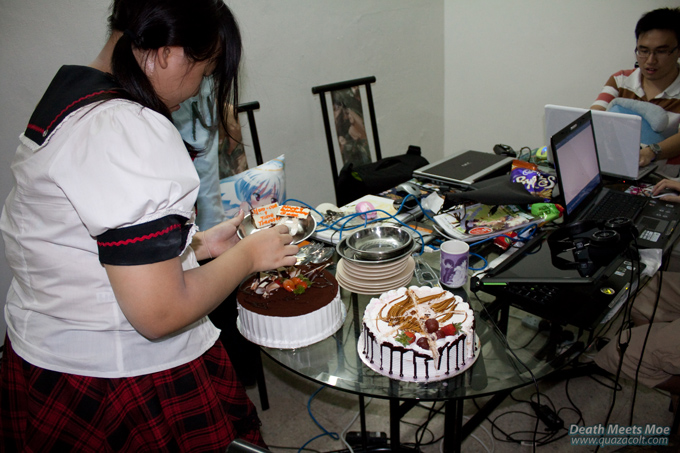 And finally the cake is sliced apart.
More pics within the mini gallery:
lastly, we even had some bullshit nice time at the local mamak restaurant with their mediocre food accompanied by some completely shitty more than friendly service… oh wells. Still, the cake was awesome, Orange sponge layered cake may seem ordinary, but it was definitely better than the tiramisu cake. Horo sweet syrup face aside, i suppose its mainly due to the overrated popularity of tiramisu cakes and most people are tired of it. Some fresh orange cake on the other hand (prolly it being "ordinary") was actually very refreshing and definitely more satisfying.
Thats it again for another post. Hope you guys like this Horo cake i got made. Definitely isnt the first one done, in fact on some random googling, someone else made a Horo cake somewhere around 2008 😉
Anyways, next post is almost done as well, so stay tuned 😀
=edit=
Sorry for the missed out pagebreak to avoid the main page from being flooded. Sorta forgotten that, and when i realize it, wordpress/server/isp seems to took a shit and i couldnt get to edit the post… and im late for work -_-;