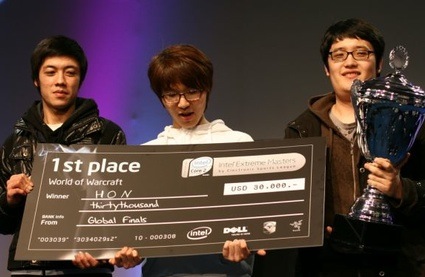 Heres a much delayed highlight (not that its already overdone by Gameriot Bloggers -_-;) of  2009 World of Warcraft Electronic Sports League European regional finals highlights from DMM. Dont think im gonna put up much write up on this as you're better off checking out Gameriot blog itself, so with that said, i present you the youtube for the (pretty much) best pro-arena moments in WoW EVER:
[youtube]http://www.youtube.com/watch?v=7duX4QpVaAQ[/youtube]
(click on the youtube link twice to open a seperate link that allows HQ playback if you prefer so) 
If you dont care about WoW, at least skip the video to ~2mins, and watch it for about 2+ mins till ~4mins.  Thats where the epic happened. A losing battle, complete despair, and yet orange marmalade never gave up, and beaten reason to the curb (o hai TTGL!) and win it for the team.
How is this so epic? SK-Asia requires that ONE win, to gain the 30k USD, while HON requires THREE WINS to get the 30k USD tournament prize. (2 more win, + another due to HON coming up from the lower bracket) Just because of orange marmalade 'never-give-up-spirit', he got his team the victory for the ESL European regional finals and the 30k US dollars.
for more, refer to this WOM's Gameriot coverage here: http://wowriot.gameriot.com/blogs/World-of-Ming/ESL-Global-Finals-Day-2-Two-Korean-And-One-French-Team-Left
To those that dont understand the video (or WoW) and wants to find out more, refer to the edited video below:
[youtube]http://www.youtube.com/watch?v=Gy8UZR72o9c[/youtube]
(click on the youtube link twice to open a seperate link that allows HQ playback if you prefer so) 
for more, refer to this WOM's Gameriot coverage here: http://wowriot.gameriot.com/blogs/World-of-Ming/Latest-PTR-Patch-Still-Shows-No-Love-For-Rogues-Psyhawks-Destruction-Warlock
…and whats going on with my own WoW? To be honest, nothing much. Ive for the most part, gotten casual with my WoW, or rather forced to, due to RL/work, but fear not, i wont be quitin the game. At least not until some starcraft MMO is out 😉
Heres my armory (also can be found on my about me page):  http://www.wowarmory.com/character-sheet.xml?r=Stormscale&n=Quazacolt
You'll immediately notice the lack of awesome 2k+ ratings, and not even having a 5v5 team heh. Not gonna make any excuse for this as i really dont see a point anymore, but yeah, RL FTL. Hopefully with my company change on May 18th will take this for a better turn 🙂
One can only hope…