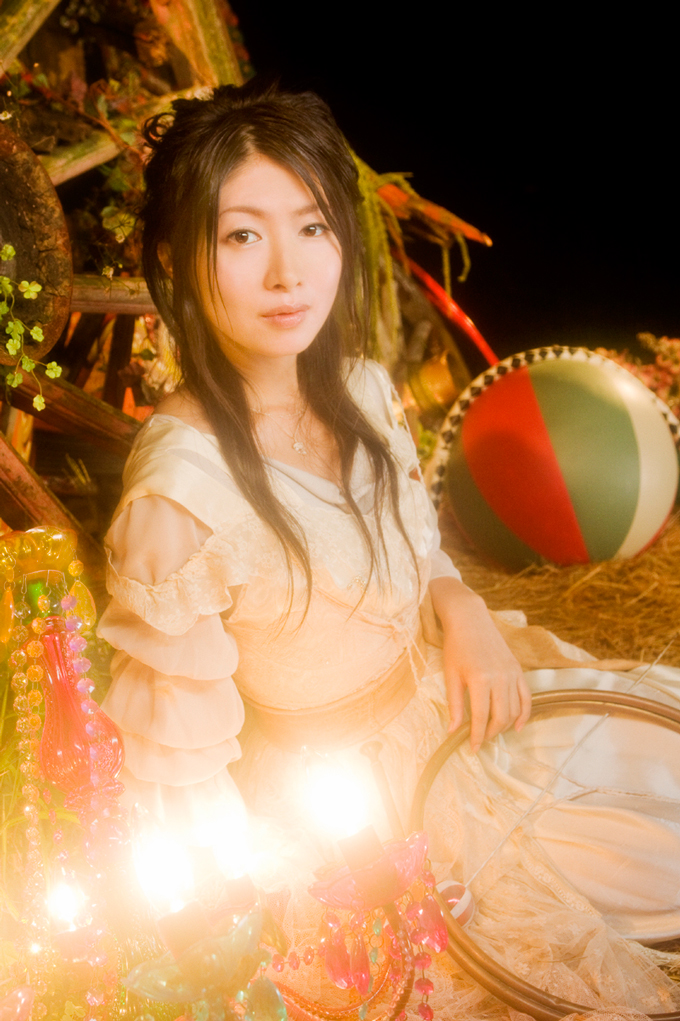 Here is another update for Daicon 2009, and it will be a pretty BIG one. Assuming you've already noticed the title and started going crazy with all the excitement (or in doubt for potential rick roll), yes, this is no April's fool joke, the dates doesn't show "1st April" – That's right, popular Japanese seiyu (voice actor) and singer, Chihara Minori is visiting Malaysia to grace us at Daicon 2009!
Just in case if you're still not familiar with this seiyu/singer, fear not, we will definitely provide as much info as possible, so here goes!
Straight from Daicon's official website:
http://www.daiconnews.com/cm_profile.php 
Artist Name: Chihara Minori
Birthday: 18th November
Blood-type: B
Representative works:
Suzumiya Haruhi no Yuutsu (Nagato Yuki),
Minami-ke (Minami Chiaki),
Ga-Rei -Zero- (Tsuchimiya Kagura).
Debuted as a voice actress in 2004 as the role of Natsume Aya in Tenjou Tenge. Her role as Nagato Yuki in Suzumiya Haruhi no Yuutsu sparked a boom in her popularity. Since then, she has taken part in many popular works such as Minami-ke and D.C. II: Da Capo II as well as excelling as a singer.
A recorded video of Chihara Minori greeting us (English subtitles also provided) is also available from the Daicon Official Chihara Minori page. (http://www.daiconnews.com/cm_profile.php)
On her tour to South East Asia for the first time, Miss Chihara Minori will be holding a Q&A panel with the fans on Saturday, 11th July 2009 and a special performance on Sunday, 12th July. Be sure to witness this historic event at DaiCon!
again, Saturday Q&A Panel, Sunday special performance, DONT MISS IT!
Some links of interest regarding Chihara Minori
http://en.wikipedia.org/wiki/Chihara_Minori Wikipedia page
http://www.animenewsnetwork.com/encyclopedia/people.php?id=22271 ANN Page
http://chiharaminori.jp/ Chihara Minori Official page (Japanese language)
http://minorhythm.jugem.jp/ Chihara Minori Official blog (Japanese language)
In addition to the above, Daicon also released their trailer which you may view it from here:
[youtube]http://www.youtube.com/watch?v=hFQNt0sQmzE[/youtube]
(click on the youtube link twice to open a seperate link that allows HQ playback if you prefer so) 
 Looks pretty damn awesome if you ask me. Heck, so awesome, should you want to keep a copy of it, you get to do so via:
http://www.daiconnews.com/downloads/DaiCon_Teaser(1280×720).mkv
http://www.daiconnews.com/downloads/DaiCon_Teaser(704×400).mkv 
Lastly, do take a look at Aoshi's write up for this update, which includes a nice jab at our Singaporean neighbours down south:
http://aoshi.wakarimasenlol.com/chihara-minori-live-at-daicon/  😛
Again, hope to see you guys this coming Daicon 2009, 11th – 12th July, MMU Cyberjaya, Malaysia.
=edit again=
Embedded Chihara Minori greeting video to the post itself. Much thanks to Uncle-Valho for the codes 😀  godai uncle
Removed Chihara Minori greeting video as per requested by Daicon folks due to agreements with the manager, the video is only allowed on the DaiCon webpage.  Sorry everyone~