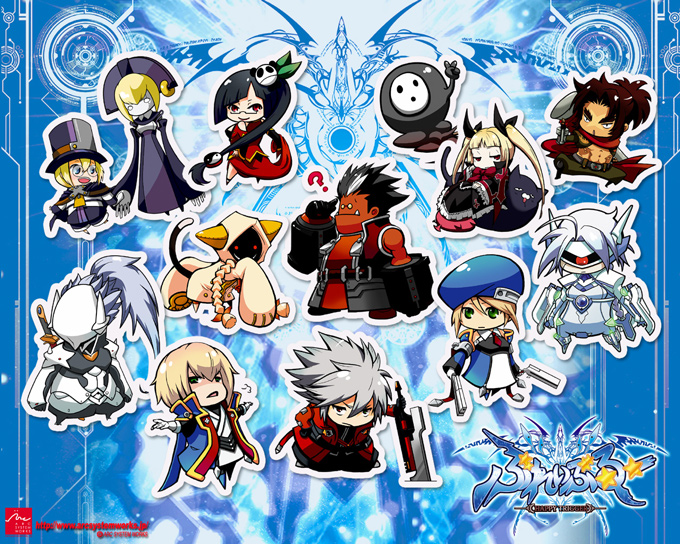 Finally got off my slacking rear to post up Blazblue Comic Fiesta 2009, and all in all, it was a really enjoyable event with the folks from The Figure Mall (TFM)/Little Akiba (LA) as usual, and if you're wondering about the post picture, yes, i spent literally half day, on both days, playing Blazblue with fellow TFM member Franstormer and Sichiri at Game Axis booth (thanks fatcat Lim XD) LOL! Don't think i am going to do much writeup/coverage considering the above with the remainder of my time spent manning at TFM figure display booth, you know, my precious figures were on display too and the so called "barricade" this year was even worse as it is capable of sending shock waves through our line of figures and having many close calls D:
Regardless, I still took a decent amount of pictures and it will still be worth the read up and i will be breaking them down in to "sections" so you may just focus on particular sections that interests you.
Main event: Comic Fiesta itself
Well, overall i would say it's much better than the previous CF08, be it the event itself, or from my own part, i mean, i had to run around snapping in PNS and being in the same terribad lighting that is Sunway Convention hall, the pictures were entirely bad. This year though, at least i have a DSLR and while the lighting conditions were as bad as ever, at least i can still make due with some post processing and editing of the RAW pictures taken.
Staging was definitely better, as it was accessible from anywhere in the hall, so you can still catch the action wherever you are. And even the artists (which is the main 'theme' of this ACG event, art) have seen a lot of improvement than before, which includes but not limited to the doujin section.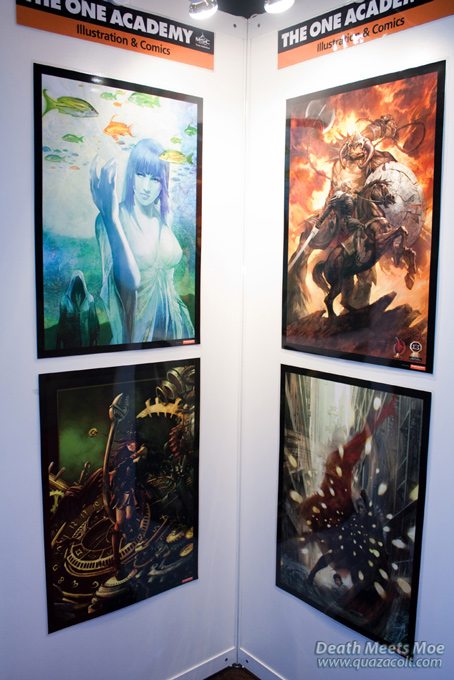 I didn't really went around and snap on every possible good artwork i come across as the doujin area is off limits for photography (which i am not sure if the media/blogger pass would exempt from that rule) and the ones displayed on the center section, like the one shown above, all come with spotlighting and it was REALLY HARD to get a good shot at it and not to mention the post processing phase to get the spot light glares off so that you may see the art instead of the glare.
Anyways i believe it had been voiced by many regarding the hall:
– transportation towards Sunway isn't easy
– again, lighting lighting lighting, BAD!
– figure displayers: dust, seriously. so BAD. the amount of dust your figure can rack up in a day of display within sunway hall, would take at least a week+ should i display it in my own room outside my detolf glass case. and my room is fairly dusty.
– another figure displayer complaint: barricade. per figure, would easily cost up MYR300 to even 600+, in which some or most are really limited edition figures in which money would not even measure up should any accidents happen. If CF does not care about us bringing our own personal collections for display, i don't think i (again, this is from my own personal viewpoint, NOT TFM as a group) would like to contribute in future figure displays.
Aside the above few complaints, i believe CF committee had done a really good job this year around in terms of improving the event as a whole. Of course, you can't possibly please everyone, however if you're at least trying, and there are improvements, i guess its better than nothing.
Moving on: Cosplayers
This year we've seen an increase in good quality cosplayers and while i may not be able to cover on all of them, other sites from linkinstreet/valho had done a really good job in said coverage and you may visit their site instead.
From my own shots, i have misshermes's Anya from Code Geass, gender bended Yukimura, cosplayed by Annie, and Sheryl Nome, which i faild in not asking her name: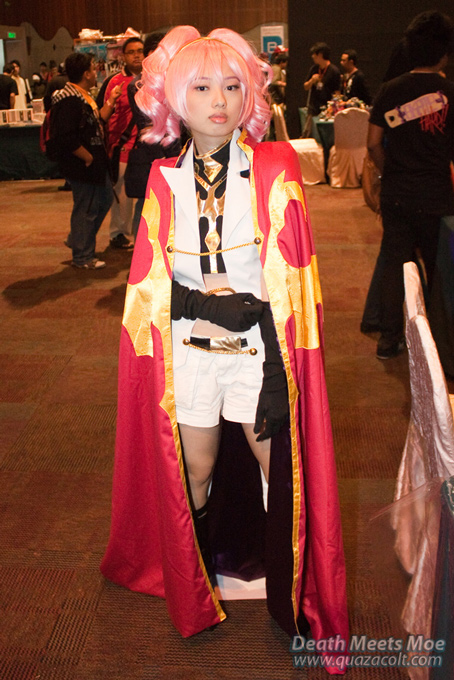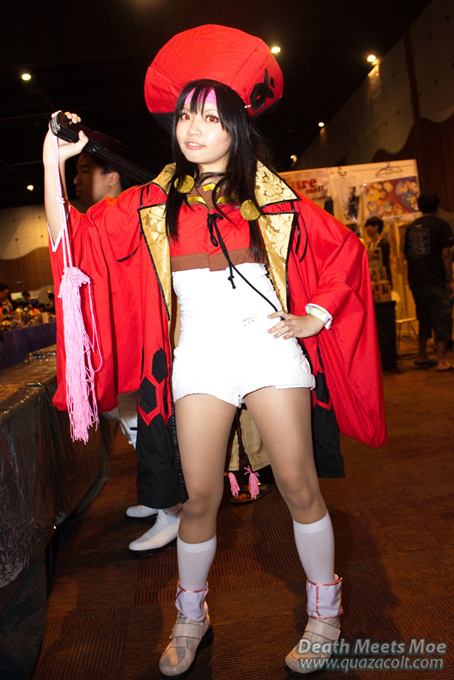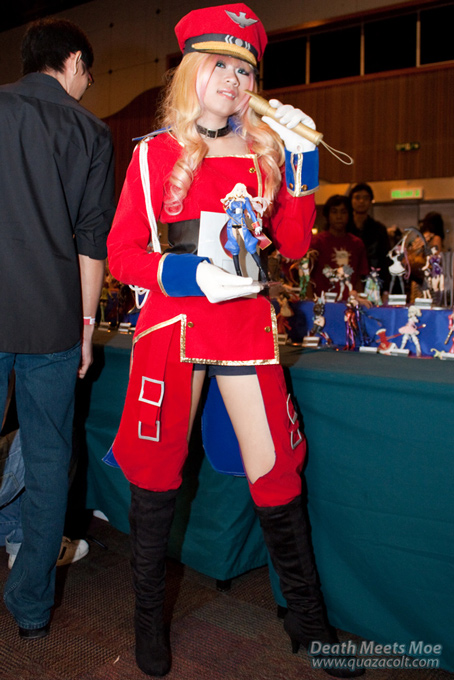 Excuse the mediocre pictures, harsh direct flash is a pain to PP, and again, terribad hall lighting. The only problem i had with cf09 cosplay was a Rachel cosplayer that, well, was really huge, and i (sadly) could not even tell if 'it' was a guy or gal cosplaying her. And yes, brain was damaged quite badly. I mean, no offense, but Rachel is a very small vampire loli, if you really have the passion to cosplaying, you would start shaving some size to better portray the character you are cosplaying, not outright murdering it. Oh, and guest18, which i will not further describe it as my brain was already hurting enough for even typing this out.
Speaking of Rachel Alucard, yeap, Blazblue
Had LOTS of fun at Game Axis booth playing Blazblue which i have recently came to enjoy thanks to Sichiri spamming poison of it. And that game had the most crowd on both days, which is pretty understandable lol!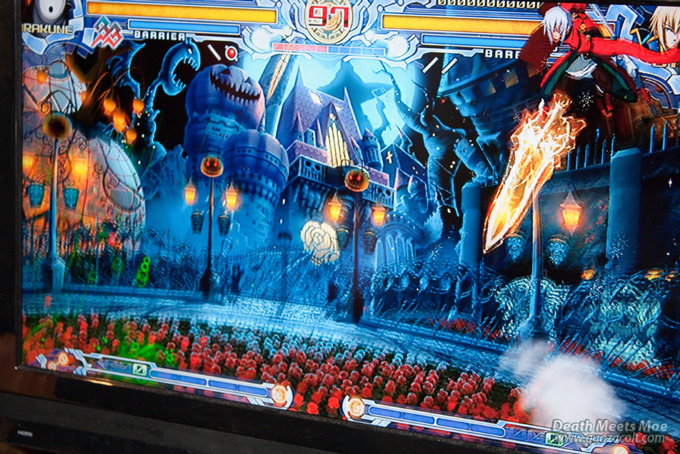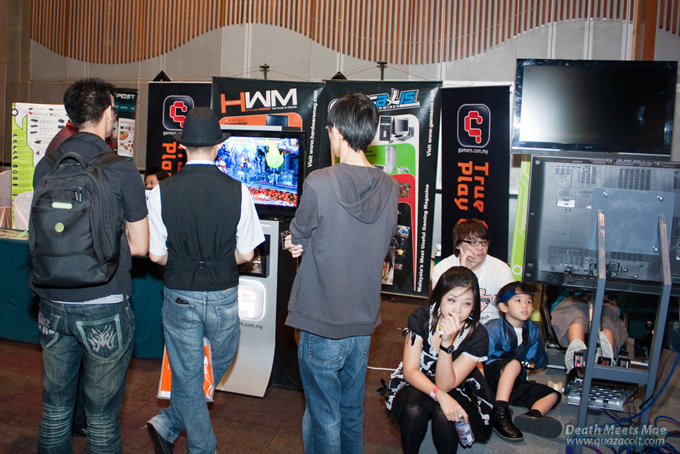 Almost finishing this post, Solomon and Crimotaku dual Storm Troopers
As with most Malaysia ACG events, you will almost always see our very own 'Dannychoo.com.my' in his storm trooper suit. This time however, we're graced with not 1, but TWO of them 😀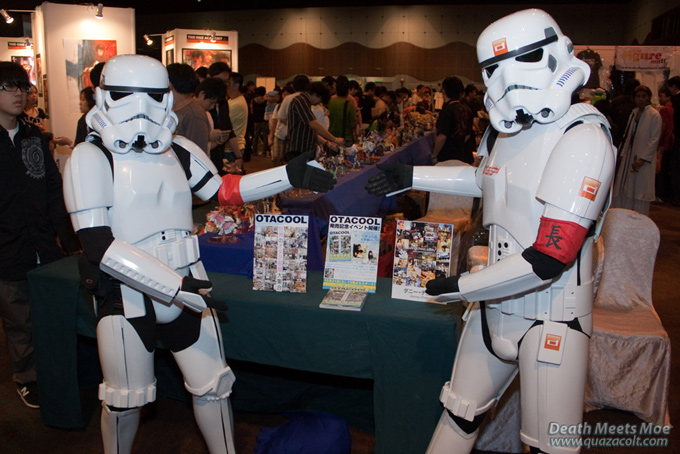 Finally ending this post, with TFM x LA, with our Figure Display
As with other major ACG events, you will also come across TFM and this time, along with their newly launched LA, with its boss beansprout: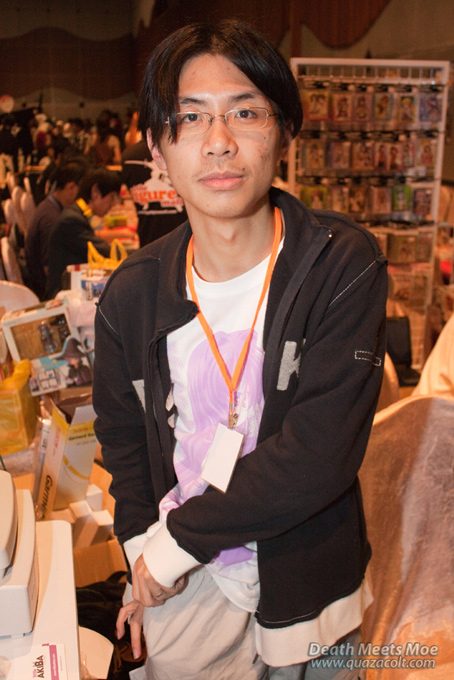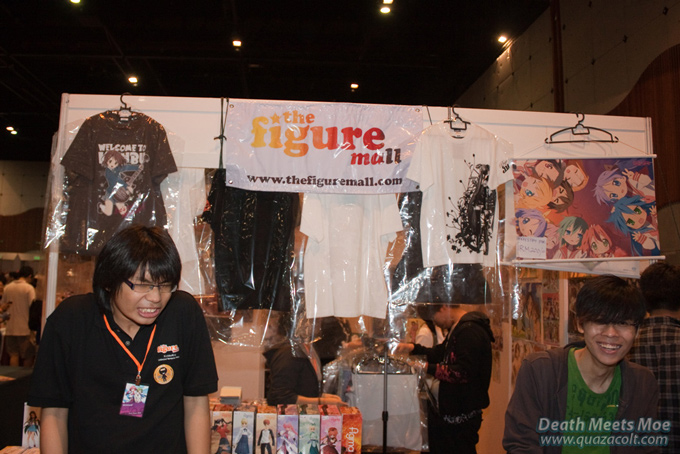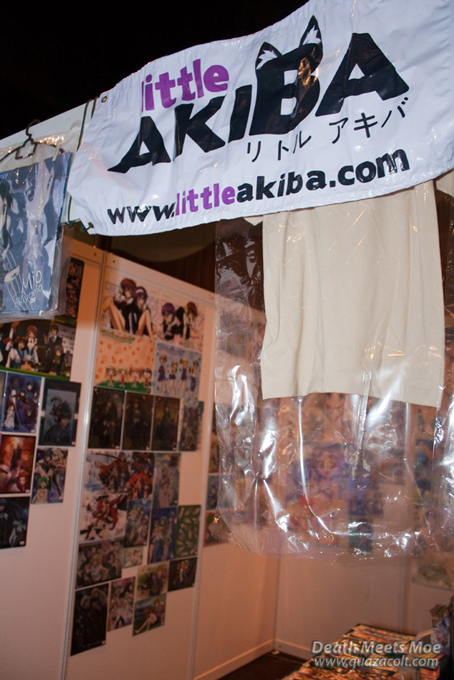 If you don't include the heart pounding shock wave events, i really had a great time with the people at TFM/LA. Just wished that CF would provide a little more on the display part, considering the things mentioned above. Anyways, an overview on the figure display we had: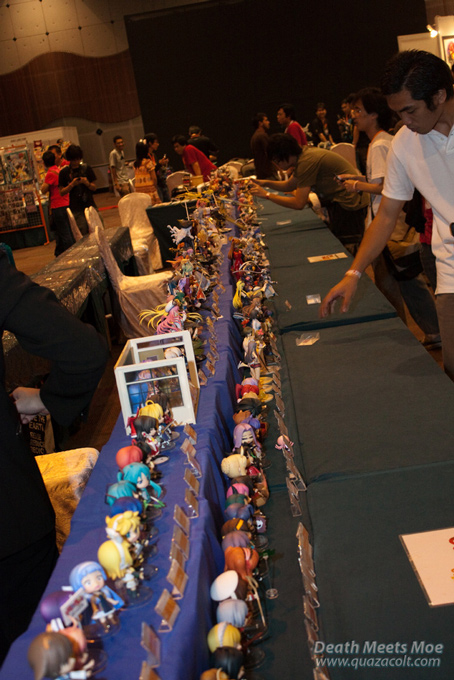 For the rest of the figure display pictures, please do visit the gallery link right below. And thats it for Comic Fiesta. Hope you guys enjoy the write up as with my other previous postings ^^
Full gallery for Comic Fiesta 2009 is available here: https://www.quazacolt.com/galleries/comic-fiesta-2009-gallery/
=update=
Valho just linked our TFM group photo: